24 Oct

Barcelona Hotels – The Room Mate Gerard

At Barcelona Design Tours, we are often asked about the best hotels to stay in in Barcelona. Our clients are rarely after a conventional type of luxury, but something smooth and affordable. If it has been designed by someone local even better. And of course a roof terrace is a must.
With this in mind, the Room Mate Gerard ticks many boxes.
The Room Mate Gerard hotel is situated in the Eixample district, and very close to the Passeig de Sant Joan; an up-and-coming avenue with cute cafes and restaurants. It has been designed by Jaime Beriestain; whose forthcoming hotel projects The Almanac and Sofia, both in the five-star deluxe category, are very much anticipated by those who don't mind laying down half a month's rent for a night's sleep.
Throughout, Beriestain displays his habitual flair for contrasting surfaces in a variety of materials; grey terrazzo, stucco walls, marble and black tinted pine ('ink black' is the binding colour of the various spaces in the hotel). Much of the furniture was also designed by him, and will be familiar to those who (like us) gape in wonder at the Beriestain Concept Store.
The Gerard is a much more urban and affordable option; one of the latest in the Room Mate 'family'. The group's celebrity owner, Kike Sarasola names and styles each new opening after an imaginary 'room mate.' Gerard, we can only assume, is an art lover; Sarasola has put pieces of his own private collection throughout the hotel, including a striking red metal wall sculpture by José Pedro Croft in the reception area.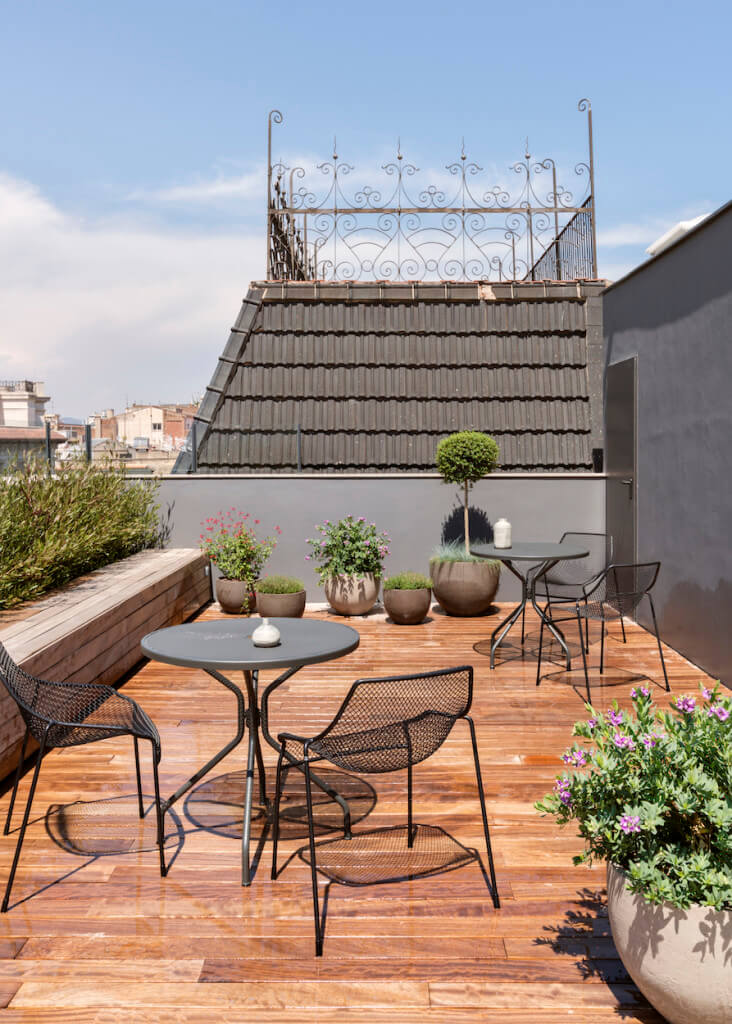 The roof terrace is pretty special too, and up there on the sun loungers you feel pretty smug knowing that this type of smart luxury comes at a bargain rate. Depending on when you book, you may find a room for around the same price as a pedestrian Airbnb.